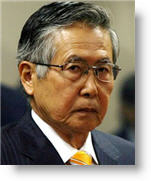 Jailed ex-President Alberto Fujimori is changing his legal strategy, in the wake of his failure to obtain a presidential pardon, and is now pushing for the government to grant him house arrest, according to daily El Comercio.
Fujimori, 75, applied for a humanitarian pardon last year based on grounds that his health has deteriorated significantly. President Ollanta Humala rejected the pardon request after a committee of medical professionals said the former president does not have a terminal illness and that his depression is not life-threatening.
Fujimori is serving a 25 year prison sentence for human rights crimes and corruption committed during his 10 year rule in the 1990s. He is suffering from depression and he appears to have aged significantly since he was jailed in 2009.
Fujimori's attorney for this specific strategy, William Castro, said that "we want him to complete his sentence," while serving the remaining years at his house.
"House arrest exists within the penal system… within the penal process," Castro said. "There isn't a norm that prohibits that one who is in the penal system can't pass to the other system."
Meanwhile, attorney Cesar Nakasaki, who has been Fujimori's defense lawyer since his first trial in 2007, remains in charge of court cases.  Pending a medical report, Nakasaki is also using the argument of "delicate" health to file a plea to the judiciary to have Fujimori excluded from the so-called  "yellow press trial," on the grounds that Fujimori's health could deteriorate if he had to stand trial.
The date for the trial has yet to be set, and deals with the use authorized by Fujimori of some $44 million of the military budget that was rechanneled to bribe several newspapers and television stations, and fund new tabloids and TV shows, in exchange for following editorial instructions dictated by the government.  The prosecution is requesting an eight-year prison sentence and civil reparation of $77 million.
According to Ronald Gamarra, former prosecutor for corruption cases, the health argument, if accepted by the judge, would mean that Fujimori would not go on trial and would not be required to pay the civil reparation.
Over a decade since he fled the country as his government toppled in corruption, Fujimori remains a polarizing figure in Peruvian society. There is still a large group that backs him, arguing that he set the foundation for Peru's economic growth during the past 10 years and that he was responsible for the defeat of the Shining Path rebels.  Others who are in favor of his trials and convictions do recognize the success of his first measures but point to the criminal methods he used to achieve it, including bribery, blackmail and murder.