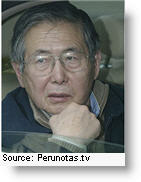 A pre-cancerous growth on ex-President Alberto Fujimori's tongue is not terminal and he can return to his prison cell, according to Pedro Sanchez, a doctor at Lima's oncology hospital INEN.
"He suffers from cancer in the buccal cavity, but doesn't require hospitalization," daily La Republica reported Sanchez as saying.
Fujimori, 72, was admitted to INEN last week to examine a precancerous growth on his tongue, on which he had surgery last year.
Doctors also conducted tests to determine if his weight loss is related to the growth on his tongue. Fujimori has recently lost 15kg (33 pounds).
Sanchez said the weight loss is due to depression.
Fujimori ruled Peru from 1990-2000 before fleeing to Japan where he faxed his resignation amid a massive corruption scandal.
He remained in Japan until 2005 when he then flew to Chile, planning to re-enter Peru and campaign for the presidency again in 2006. However, he was arrested in Santiago and later deported back to Peru to face corruption and human rights charges. In 2008, Fujimori was convicted and given a 25-year sentence on the human rights charges. He pleaded guilty to the corruption charges. He and his government took more than $6 billion.
His daughter, 36-year-old Congresswoman Keiko Fujimori, ran for president this year but was defeated in the second round vote by leftist Ollanta Humala.
Critics of the lawmaker said her campaign was largely based on the desire to pardon her father when elected. While Keiko Fujimori had previously said she would release her father, she backed down from that pledge during the campaign.
However, since the June 5 vote, her VP running mate Rafael Rey has called for the elder Fujimori to be pardoned based on humanitarian grounds. 
A presidential pardon cannot be granted because the conviction was for human rights abuses, but there are other legal recourses.    At present, the Constitutional Court is to begin hearings on a plea submitted by Alberto Fujimori's attorney, Cesar Nagasaki, to find that Fujimori's conviction is not valid because the judges were not impartial.
Gian Carlos Vacchelli, who was elected to Congress on April 10 on Keiko Fujimori's Fuerza 2011 ticket, has said his party will work to free the former president.
"The essence of the agenda is to work for Peru, but within that agenda there is definitely the fight to give a better quality of life to Alberto Fujimori and if that means a pardon and freedom, we are definitely going to do it," Vacchelli said.
Congressman Jose Vargas of President Alan Garcia's ruling Aprista party also said recently that the head-of-state could pardon Fujimori due to the latter's age and declining health.
"I think that because Fujimori is elderly and that, apparently, he has cancer, a pardon is feasible and could be considered, for strictly humanitarian reasons," Vargas said.
Carlos Rivera, a former state attorney and now working with the Peruvian human rights organization Legal Defense Institute (IDL), says the statements are part of a campaign to pardon Fujimori.
"We are seeing a media campaign because there are problems of time [for the Fujimoristas], now that Alan Garcia is leaving and they aren't going to have the same advantages with Ollanta Humala," Rivera said. "In these upcoming weeks they are going to play for it all. There is a campaign and plan that is underway."
The Fujimori party Fuerza 2011 has 36 seats in the new 130-member Congress to be sworn in July 28, and it will no longer be able to rely on strong support from Apristas for any vote since Garcia's party has been whittled down from the current 36 seats today to four in the new Congress.