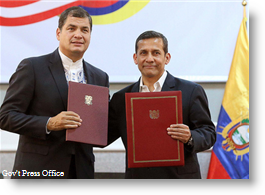 President Ollanta Humala met with his Ecuadorian counterpart Rafael Correa on Thursday as part of a plan to strengthen ties between the Andean nations.
The meeting in Peru's north coast city of Piura is part of an ongoing strategy by the two countries to strengthen ties since a brief war in the 1990s over a border dispute. Humala and Correa are also political allies in a group of South American leaders once led by President Hugo Chavez of Venezuela, although President Humala has distanced himself from Correa, Morales in Bolivia and Fernandez of Argentina in his economic policies.
According to state news agency Andina, the two presidents signed several agreements, including the interconnection of electricity grids and pledges to work together on improving security in the border area.
A seventh bi-national cabinet meeting was also held throughout the day, with agreements on tax and customs integration to prevent smuggling and price-fixing on the borders, and a five-year health plan for the border areas.
Humala called the meeting a sign of "peace and integration."
"These agreements capture the advances, the political will of the two peoples that have decided to go down this path together, the path of development and peace," Humala said.