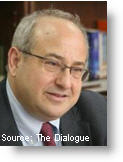 President Ollanta Humala's almost year-old administration faces an uphill battle as the administration tries to deal with social conflicts in the mining sector, according to Michael Shifter, the president of the Washington-based Inter-American Dialogue.
In an interview with Ideeleradio, Shifter said the government needs to find a new formula to create social peace in the Andean country, which has seen more than 10 people killed during violent protests since the Humala took office 11 months ago.
"Difficult, complicated times are coming for President Ollanta Humala due to the issue of social conflicts caused by investments and confrontations with communities," Shifter said. "I think this is the administration's enormous deficit,  and how to manage these [conflicts] and how to get out of them politically."
The most prominent protests recently have targeted projects owned by mining companies Newmont and Xstrata, as well as Southern Copper, Anglo American and Bear Creek.
Critics of the mining industry who have been taking their protests to the streets say the projects are environmentally harmful, which is rejected by the companies and government. Proponents say the investment projects are needed to ensure Peru continues to post robust economic growth in the future.
When Humala took office, he said he would prioritize dialogue with protesting communities, which were also a major problem for President Alan Garcia's administration. Since taking office, however, some critics accuse Humala of reversing course and using force to stem the protests.
"I think Peru needs investment, but also, it needs social peace and it needs a way to live with the communities," said Shifter. "At the moment, the government has not found the formula to respond to both challenges and I think that the upcoming years are going to be very hard for Humala."