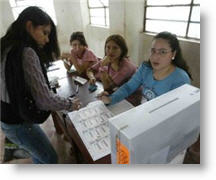 Following the country's standard election regulations, Lima is effectively a "dry" city as of midnight Thursday until noon on Monday, when sales of liquor are prohibited for the recall election to be held Sunday, March 17.  The liquor sections in supermarkets are closed off or covered, and no liquor can be sold or consumed in public places, including private clubs and restaurants.
The fine for breaking this law starts at S/.1,850, which is 50% of the current tax unit.
Also, no public meetings of any kind can be held and it's a week now since the last opinion polls could be published. All campaigning must stop on Friday, two days before the elections.  
At the same time, almost all private and public schools have closed, lending their facilities to the national elections board for voting booths.
This year, the people manning the voting tables —who are randomly selected within each electoral district and receive training— have been granted a paid holiday from their jobs on Monday because the elections board believes that the ballot counting could easily continue well into the night or even later. Voters need to mark 40 boxes on the ballot, either for or against the recall of the mayor and her 39 council members. While the elections board has calculated that the voting process should take approximately 3 minutes per ballot, this does not include the time for verifying each voter's ID, the signing of the voter sheet, etc.
Although the trend of the vote will be known by Monday, the final results of the election are not expected until at least the first week of April, because there are only eight working days left in March due to the long Easter weekend and there undoubtedly will be observations on ballot counts.  The ballots are counted by the three people at each table, overseen by authorized members of each side of the campaign, and their report is handed in to the national elections process office, ONPE, where the results are fed into the electronic system for the final tallies.