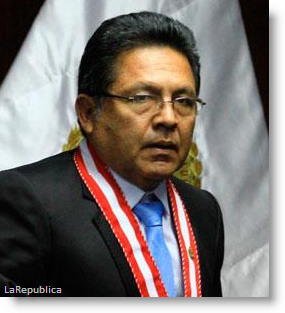 Attorney General Carlos Ramos Heredia was removed from his post this week, in an unprecedented move by Peru's National Council of Magistrates.
The council voted to sack Ramos Heredia following an investigation into his ties with disgraced former Ancash regional president Cesar Alvarez, who is accused of running a large corruption ring in the mining-rich region.
Ramos Heredia, a cousin of First Lady Nadine Heredia, was accused of interfering with investigations into Alvarez by removing prosecutors in charge of the cases when he was the head of the Public Ministry's department of internal control, daily Peru.21 reported.
The magistrates' council found that Ramos Heredia, who was elected Attorney General last year, had favored or allowed for Alvarez to run his alleged corruption ring.
The council voted on three cases. The first accused Ramos Heredia of trying to fire anticorruption prosecutor Jose Checa, who was investigating Alvarez. The second case questioned sanctions he levied against four prosecutors who were investigating La Centralita, a building that was allegedly used by Alvarez and his associates to illegally listen in on conversations of political opponents.
Ramos Heredia was also accused of blocking an investigation into another prosecutor, Dante Farro Murillo, who allegedly has ties to Alvarez.
The council voted in favor of removing Ramos Heredia five to one. The council said that Ramos Heredia will be able to appeal the ruling.
According to Cruz Silva, a lawyer for the Legal Defene Institute, interim Attorney General Pablo Sanchez will need to wait until Ramos Heredia's appeal is resolved before calling elections to choose a new attorney general.  The election is made by six supreme state attorneys, appointed by the national magistrates' council.
Ramos Heredia remained defiant after the ruling, saying that he would appeal the decision at the Constitutional Court, Peru's top court, and the Inter-American Court on Human Rights.
"There is a plot against me," Ramos Heredia said. "I don't see any argument or justification for this measure."