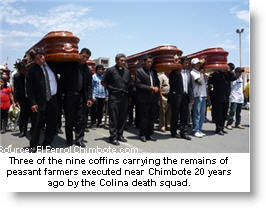 The remains of nine men, kidnapped and executed almost 20 years ago by the Colina death squad, were buried this past Sunday at the cemetery in their home town of Santa, following a service led by Bishop Piorno of Chimbote.
A representative for Cabinet chief Salomon Lerner was present, as well as relatives of the La Cantuta university students who were killed in Lima, also in 1992, by the same death squad.
According to statements made by the families to the Truth Commission, CVR, the peasant farmers were taken violently from their homes, in the countryside around the coastal town of Santa, in the early hours of May 2, 1992, by seven or eight uniformed, masked men and one woman who travelled in several unmarked pickup trucks that looked like police vehicles.  The area had witnessed a series of incursions by Shining Path rebels, and protests by a peasant farmer rights group, days before the kidnapping.  
Jesús Noriega, Federico Coquis, Gilmar León, Pedro López, Denis Castillo, brothers Carlos and Roberto Barrientos, and brothers Jorge Luis and Carlos Tarazona were reported missing by their families when neither the Navy in Chimbote nor local police stations had any information on their whereabouts.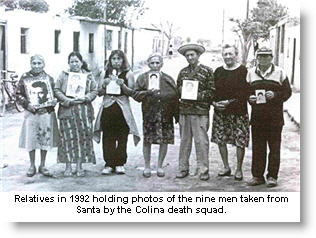 The mother of one of the men was later able to identify Santiago Martin Rivas, the head of the Colina group, as the man who kept her down on the floor with his boot on her back.
Some 10 years later, witnesses involved in the raids told the CVR commission that Martin Rivas had led the operation and that the squad members had painted signs on the walls to make the raid look like a Shining Path attack. The men they kidnapped were shot and buried in the desert close to the Pan American Highway en route to Trujillo.
Despite searches, the bodies were never found. Until, accidentally, almost 20 years later, they were uncovered on August 4 this year near the highway in the province of Virú.
The families identified the victims the following day, recognizing their clothing.  Forensic specialists eventually were able to confirm the findings and the court ordered the return of the bodies to the families this past week.  The scenes were painful as the forensic anthropologist moved each body from its forensic research box to a coffin.
The relatives of the victims plan to be in Lima November 28 to hear the decision, and they hope ratification, by the Supreme Court on the sentences —of between 11 to 25 years imprisonment—  given a year ago by the First Special Criminal Court of Lima  to the 25 military officers and former members of the Colina Group involved in specific human rights abuses that include the Santa murders.