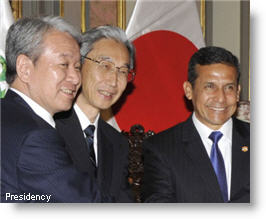 A total of $102 million in loans has been approved by the Japanese International Cooperation Agency, JICA, to optimize the water and sewage systems in North Lima and to develop a tourism route in the Amazonas region in the northern Peru cloud forest.
 The agreement —part of a six project package agreement made during President Humala's visit to Japan last April— was signed at the government palace by JICA's president, Akihiko Tanaka, and the Minister of Economy, Miguel Castilla.  President Humala and Japan's ambassador Masahiro Fukukawa were present.
The water and sewage project will benefit over 600 families in parts of the North Lima districts of San Martin, Los Olivos, and Carabayllo as well as a section of Callao.
The tourism development project is to boost rural areas in the Utcubamba Valley in Amazonas, where the 15th century Chachapoyas fortress of Kuelap is located as well as the museum and research center at Leymebamba.  This part of the initiative includes 13 projects, four of which are for treatment of solid waste, plus two road projects and others focused on tourism and building of skills among the rural communities.   
JICA, which has been working in development cooperation in Peru since 1958, also has a series of ongoing projects in environmental issues, prevention against natural disasters, and basic sanitation.