By Paul Goulder
After nine years directing a history series for national television, historian Antonio Zapata has decided it is time to go back to university to teach and do research full time.
Sucedió en el Perú has been broadcast on the national television channel, Canal 7, since 2001 and has dealt with a wide range of historical topics (are there any left to cover?).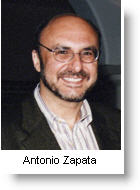 During what is effectively the last decade Zapata has gained a reputation for extremely clear, simple and yet erudite explanations of sometimes complex and controversial historical topics. He has given space to an impressive roll-call of specialist historians and during interviews he has been quick to intervene when experts veer off track or fail to clarify an issue.
In an article titled "Adios a Canal 7" published in La Republica earlier this month, Zapata explained that during that period, "I have tried to create a bridge between academic and popular knowledge of history. My assessment is that there is a gulf between them, and my purpose was to narrow that gap, using clear and direct language that is entertaining and at the same time enlightening. The privileged audience of this program have been the teachers, only they can educate and influence people across the country."
Zapata's history series in English
As a tribute to Zapata's work, Peruvian Times includes a brief list of Sucedió en el Perú videos – representing the main periods of Peruvian history – which you can view by clicking on the associated links. The videos are in Spanish. Fortunately for us, Zapata and his production team have opened up access to the documentaries, and many are viewable as YouTube videos.
In collaboration with Antonio Zapata, a project based in UK and Peru has been using the videos to compile a course in Peruvian history for Peruvians living abroad (mainly in Ireland, UK and other Anglophone countries). The "formation of the first cities in Peru 3000 BC " is a logical place to start if you would like to view the videos and the progress of the project. The translations are far from complete but the pages are set up so that participants (i.e. anyone English / Spanish speaking – even if only part bilingual) can help transcribe and then translate some of the screenplay text . The "period of the Conquest " could be another useful point at which "to join history" because there the translations are more advanced.
Other links are given as follows.
Caral | Chavín | Moche-Nazca | Incas | Conquest | Viceroyalty | Reforms | Tupamaru | Independence | Confederation | Guano | Nitrates War | WW2 | Economy | Special
These links are to the Anglophone project "History of Peru", where the Zapata series is embedded in explanation and translation in English. If you can handle the originals in Spanish they can be viewed directly on YouTube or on the Sucedió en el Perú website.
These education materials for Peruvians in English-speaking countries (and for gringos newly arrived in Peru) would have been much more difficult (near to impossible) to develop if Zapata and his team had not pioneered the originals in Spanish.
FOR YOUR DIARY. More information about Sucedió en el Perú in English and a talk about the "History of Peruvian Languages", will be given on Tues. 19 January, 2010 at 7:30 pm in a seminar at Avenida Benavides 1060-1, Miraflores. Phone: 242 2761.