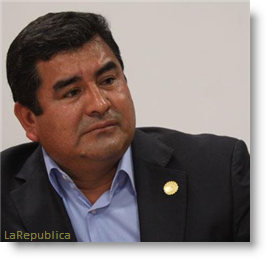 The Anti-Corruption Prosecutors  Office alleges that the regional president of Ancash is the head of a criminal organization that includes 16 people, according to daily Peru.21.
The report by the anti-corruption prosecutors' office  said that the criminal organization includes two congressmen, the mayor of the province of Santa in Ancash, a lawyer, a businessman who has acted as a front man, and the head of the public image for the Ancash regional government.  The congressmen are Victor Crisólogo of Peru Posible, and Heriberto Benitez of Solidaridad Nacional who stated that the criminal network is an invention conjured up by the prosecutor .
The prosecutor's report alleges that the group used "assassins to intimidate and/or eliminate their political adversaries, accusers or witnesses of criminal acts; and had used front men to launder money into the economy."
The report also alleged that the regional government bought off journalists and bribed police, local prosecutors and judges in Ancash to guarantee their impunity.
Alvarez' administration has come under national spotlight since the murder in March of a political opponent of the regional government who had planned to run for the regional presidency this year. Earlier, once in 2010 and also recently, two other opponents had been assassinated.
Ezequiel Nolasco, a construction union leader in Ancash, had accused Alvarez of committing widespread corruption. Nolasco, who escaped an attempt on his life in 2010, had filed complaints on a number of occasions alleging misuse of funds by Alvarez and by the mayor of the Santa province, Luis Arroyo, who is believed to have been involved in the allocation of public bids.
Ancash operates a large budget owing to income from the mining canon paid by Barrick Gold and the huge copper-zinc project of Antamina.
Nolasco's killing led to several media reports in Lima alleging that Alvarez was behind the murder of his political opponent. Alvarez has repeatedly denied any links to the crime and other wrongdoings.
Nevertheless, Peru's Congress created a commission to investigate the allegations, while the Finance Ministry froze the regional government's bank account over concerns about its use of public funds.  It has also frozen Alvarez' accounts, pending negotiations.