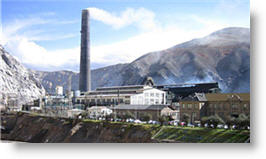 The former president of Doe Run Peru received a bonus worth more than 1.5 million soles ($570,000) in 2011, while the company faced bankruptcy proceedings after it fell deep into debt, according to a report by daily La Republica.
The payments to Juan Carlos Huyhua, the former Doe Run Peru executive, were detected by Right Business, the company that has been put in charge of Doe Run Peru's liquidation, according to the newspaper.
According to the report, Huyhua received a bonus worth 793,661 soles in order to keep him from resigning his post. Another bonus worth about the same amount was paid for the same reason. Huyhua also received a salary of 62,989 soles a month.
Huyhua had worked as vice president of Doe Run Peru from 1997 to 2006, and then was promoted to president. He left the company in June this year.
Doe Run Peru was a unit of the US-based Renco Group, which was owned by U.S.-billionaire Ira Rennert. Doe Run Peru owned the polymetallic smelter in the Andean town of La Oroya, located in Junin region. It acquired the smelter in the late 1990s during a privatization process. The smelter is known for causing serious pollution, including lead poisoning among young children and other local residents.
The company had acquired the smelter with the agreement that it would complete updates to reduce pollution from the facility, which was built in the 1920s. Although it completed most of the clean-up steps, including that of the river, Doe Run Peru repeatedly asked for extensions to the original 10-year environmental cleanup program, known as a PAMA, arguing that it could not finance the final clean-up stages, which caused ire among many Peruvians, including politicians, religious leaders and even the business community. 
In 2009, during the height of the global financial crisis, Doe Run Peru stopped operations at La Oroya when it wasn't able to receive financing. Bankruptcy procedures against the company began shortly after.
The company's creditors, which included a number of mining companies and the Mines and Energy Ministry, rejected a plan to restructure the company this year. If accepted, the plan would have allowed Doe Run Peru to maintain control of the smelter.
Instead, the creditors opted for liquidating the firm and chose Right Business to manage the process.
Right Business restarted the zinc circuit at the smelter in late July, while it seeks to the sell the smelter.