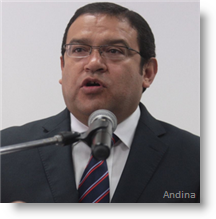 The new chief of Peru's anti-drug agency Devida said the government should meet its coca eradication goal, state news agency Andina reported.
The head of Devida, Alberto Otarola, said the government is on a "good path" in reaching its goal to increase annual coca eradication to 30,000 hectares.
"As of yesterday, we had eradicated more than 12,800 hectares. We are almost half-way there, we are on a good path," said Otarola, a former defense minister.
President Ollanta Humala's government has increased its annual targets for eradication, from about 10,000 hectares a year since he took office in 2011. Last year, the government eradicated more than 20,000 hectares, a result Otarola described as "extraordinary."
However, the government has also backtracked on some of its plans for eradication, especially in the area straddling the Apurimac, Ene and Mantaro river valleys, known strategically as the VRAEM. The VRAEM is now Peru's top coca growing region, but the government has never eradicated coca crops in the area due to concerns of a violent backlash from coca farmers, drug traffickers and remnants of the Shining Path rebels.
Otarola's predecessor, Carmen Masias, had announced plans to enter the VRAEM to eradicate coca crops, but she was removed from the post two weeks ago as the government decided to give greater weight to the promotion of alternative crops to reduce coca crops in the VRAEM.
Otarola echoed that new focus in comments reported by Andina. "It isn't about just eradicating coca crops. The success of this process has been because with the eradication, the state has invested a lot in crop substitution, in the post-eradication," he said.
More than 500 programs and projects have been implemented in coca eradication and substitution areas, including cacao, coffee, bananas and palm oil, Otarola said.
"Something is happening that we haven't seen before — where the coca leaf is being removed and legal crops are planted, the coca leaf never returns."