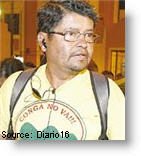 Wilfredo Saavedra, the head of the Environmental Defense Front in Cajamarca, says that his group did not receive financial support from Cajamarca's regional government to fund the protests against a Newmont Mining project last year.
In an interview with Ideeleradio, Saavedra said: "We haven't received any type of support from the regional government for the November 9 protest or the [November] 24 to December 4 [protest] last year."
"We also haven't received economic support for the National Water March," Saavedra said. Saavedra said that Defense Front is "self-financed."
Saavedra's comments follow claims by Peru's comptroller general, Fuad Khoury, that Cajamarca's government has been using funds to back protests against the project that were supposed to be used for education.
Cajamarca Regional President Gregorio Santos began leading protests against Newmont Mining's Minas Conga gold project last year. The protests paralyzed much of Cajamarca and resulted in the suspension of Conga, Peru's biggest mining project and which will require an investment of $4.8 billion.
Santos denied the allegations, saying that it is part of a political persecution against him.