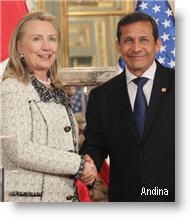 United States Secretary of State Hillary Clinton returned to Washington D.C. Tuesday after  a brief visit that included  a meeting with President Ollanta Humala.  She was met by President Humala and First Lady Nadine Heredia at the government palace on her arrival in Lima on Monday.
Clinton was to discuss with Humala bilateral and regional cooperation, the State Department said in a statement. "She will also participate in an international conference on women's financial inclusion – Power: Women as Drivers of Growth and Social Inclusion," the statement said.
The international meeting on women's empowerment  is a week-long conference, and those attending include Michelle Bachelet, former President of Chile who now heads the UN's new UN Women organization, and several Latin American cabinet ministers as well as World Bank and Inter-American Development Bank officers.  Nadine Heredia, and the Minister of Social Development and Inclusion, Carolina Trivelli, have a prominent role in the conference.
Two weeks ago, Heredia was welcomed in New York by Clinton and by Bachelet, for the launching by Clinton of the Equal Futures Partnership initiative. Peru is a founding member of the initiative with 11 other countries — the United States, Australia, Benin, Bangladesh, Denmark, Finland, Indonesia, Jordan, the Netherlands, Senegal, and Tunisia— as well as the European Union.
Before returning to Washington, D.C. on Tuesday, Clinton joined Bachelet to visit the garment district on Gamarra in the district of La Victoria, where women play a fundamental role in developing and operating small garment manufacturing businesses.  
Clinton was accompanied by Melanne Verveer, the U.S. Ambassador-at-Large for Global Women's Issues.
President Humala's administration has been focused on a policy of social inclusion, which has involved expanding social programs for Peru's poorest communities.
Carolina Trivelli said that Clinton's visit to Peru is in recognition of President Humala's policies, according to state news agency Andina.
Clinton said that the U.S. "would do everything possible" to support Peru's policies, according to Trivelli.
A senior U.S. State Department official said during a briefing with journalists that the U.S. has four broad policy goals in the hemisphere. These include promoting socially inclusive growth, energy partnerships, citizen security, and supporting democratic governance, the official said.
"This sort of hits on all of those themes," the official said in reference to Clinton's trip.