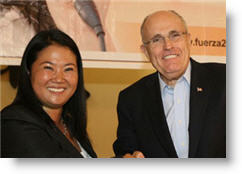 Former New York mayor Rudy Giuliani arrived in Peru on Sunday to support the presidential campaign of right-wing Congresswoman Keiko Fujimori by providing advice on public safety and crime.
During an interview with Radioprogramas, Guiliani said the only way to combat crime is with an "honest and responsible" police force.
"There is the impression that if you are poor you are going to have to pay for whatever offense or crime that you've committed," Guiliani said. "However, if you are rich, you can buy your freedom. In order to fight this you have to eradicate this impression and you have to work with a police corps that is honest, responsible."
Two advisors to Giuliani have been in Peru for the past two months analyzing the country's situation so that the New Yorker could make recommendations to Fujimori.
"There isn't one method that can serve all cities," Giuliani said. "I have given recommendations for cities in the United States, in Mexico, Colombia, Brazil and the Ukraine."
Giuliani was mayor of New York from 1994 to 2001. He was unsuccessful in his bid for the Republican party's presidential nomination in 2008, but may run again for the nomination for the 2012 election.
Fujimori will face left-wing opponent Ollanta Humala in the second round vote on June 5. The winner will assume office on July 28.
During her campaign, Fujimori and her Fuerza 2011 party have tried to portray themselves as the best option to combat crime, by using strong tactics. She has said, for example, that she would introduce the death penalty for child rapists.
Opinion polls regularly show that crime is one of the main concerns for residents in Lima and other major cities, particularly Trujillo on the north coast. Surveys also show that there is little public trust in many institutions largely due to the perception of widespread corruption.