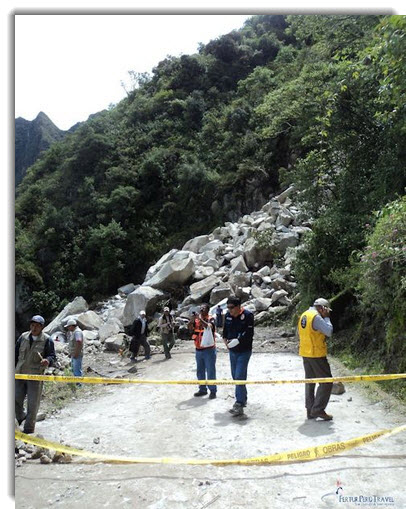 The flow of tourists into Machu Picchu is getting back to normal, a week after a landslide blocked the switchback "Hiram Bingham" road up to the Inca Citadel, a top Cusco official said Thursday.
"At no point was the monument closed, despite what occurred," Ricardo Ruiz-Caro, regional director of Cusco's Culture office,  told daily newspaper Correo. "Things have been under control at all times, meaning that visitors, national and foreign, are accessing (Machu Picchu) normally."
The bus consortium Consettur was ordered on Wednesday to change its schedule, to start running its shuttle service to the ruins at 9:30 a.m., four hours later than normal, in order to give workers the time and access they need to clear the remaining debris and repair the road.
The shuttle buses are taking visitors a quarter of the way up the zigzagging access road. There, the passengers are getting off and  hiking approximately 10 minutes up a foot path, past the blocked sections, and boarding other buses waiting to take them the rest of the way to the entrance of the ruins.
Peru's tourism trade publication TNews and Fertur Travel's Peruvian Travel Trends blog published photo-spreads of the landslide, as well as pictures of "intrepid travelers determined not to let a little landslide mess up their Cusco vacation."
Machu Picchu is Peru's top tourist attraction. Upwards of 2,500 local and international tourists visit the site every day, according to the Culture Ministry.