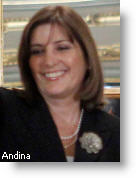 Peru's new Minister of Foreign Relations, Eda Rivas, was sworn in Wednesday at the government palace, at a ceremony in which President Humala also thanked and congratulated the outgoing minister, Rafael Roncagliolo.
Also sworn in, as the new Minister of Justice, was Daniel Figallo, formerly deputy minister of the portfolio.
Roncagliolo's resignation was announced early Wednesday, citing health reasons.  The reason has been questioned by some of the press but he has had several health issues over the past several years.
Rivas, 60, served as Justice Minister until Wednesday and becomes the first woman to be appointed as Foreign Relations minister, in a cabinet that includes six other women — Health minister Midori De Habich, Production minister Gladys Triveño, Education minister Patricia Salas, Labor minister Nancy Laos, Social Development and Inclusion minister Carolina Trivelli, and the minister for Women and Vulnerable Peoples, Ana Jara.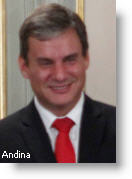 Figallo has served as deputy minister of Justice, and earlier as deputy minister for Human Rights and Access to Justice, a department he was in charge of building, to include offices on public defense, personal data protection, human rights. He draft the National Human Rights Plan 2012-2016. 
Meanwhile, Roncagliolo leaves the Foreign Relations portfolio at a sensitive time of relations with Venezuela, for all Unasur member countries, and the brief time ahead to await a Peru-Chile maritime border ruling from The Hague.
Roncagliolo,68, was appointed to head the Foreign Relations ministry in 2011 when President Ollanta Humala took office. He came to the cabinet with decades of experience in international non-governmental organizations and strong political experience.  One of his major successes has been the calm steering of Peru-Chile relations during the legal arguments for the border decision from The Hague, and maintaining the Peru legal team at The Hague virtually intact from the previous administration. 
He has faced several challenges during his term in office, and most recently two lesser incidents —over Peru's ambassador to Venezuela, who has since been removed for political comments and for personal reasons (charges of bigamy), and increased tensions with Ecuador due to that country's ambassador getting into a supermarket fight in Lima —an incident that was solved quickly by Peru suggesting new ambassadors be appointed in both countries.