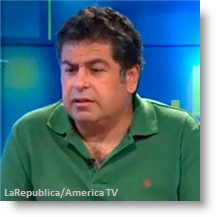 The Presidency issued a statement this weekend "categorically" denying that "any meetings were held in 2011 or any years after that," with Martin Belaunde Lossio, a lobbyist who is under investigation for alleged involvement in a major corruption ring.
Belaunde worked closely in President Humala's first —unsuccessful— campaign in 2006, and has been a lobbyist and "go-to" for a wide group of political contacts, including within the ruling party.
He has also been linked to a major corruption network operating in the Ancash region that allegedly includes two members of Congress and a real estate "operator," Rodolfo Orellana.  However, when it was suggested that Belaunde could turn state witness in the Ancash investigations in exchange for certain benefits, the state prosecutor refused on the grounds that he believed Belaunde was a key player in the corruption network and not just a minor link.
Belaunde is currently under arrest in Bolivia. Peru's state prosecutor drafted a request for extradition, but this was turned down by the head of Peru's Criminal Court, Javier Villa Stein, on the grounds that the document was poorly drafted.
This week the anticorruption prosecutor, Joel Segura, was drawing up a new extradition request.
According to a news report, the ongoing Belaunde connection with the President stemmed from a testimony given to a state attorney in December 2014 by a former governor of Madre de Dios, Gilbert Galindo, who said the president of his region, Luis Aguirre, and other officials were in the Palace with Martin Belaunde for an interview with President Humala.
In the Palace statement released Sunday, the Government said that the "former Governor, who has not only lied previously," had based his statement on second-hand information from a watchman.