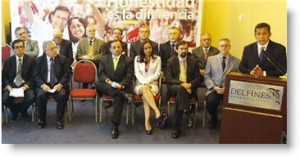 Presidential candidate Ollanta Humala has presented his new government plan, only weeks before the second round vote, in an attempt to attract moderates and reverse a trend favoring opponent Keiko Fujimori.
Humala has ruled out making changes to the private pension system, a proposal that was heavily criticized by opponents recently.
The plan also calls for respecting the independence of Congress and the Judiciary, state news agency Andina reported.
"We want to provide confidence to the country for a gradual but persistent transformation, without destabilizing changes," the document says. "We will reinforce [economic] growth with inclusion, macroeconomic stability and the growth so that the economic benefits reach everyone."
Humala is working to recast himself as more moderate but has recently been dogged by critics who say his government plan contradicts his initial campaign talk.
Congresswoman Keiko Fujimori, his opponent and the daughter of imprisoned ex-President Alberto Fujimori, said the presentation of the new plan or road map creates more confusion.
"He first presents a government plan, later a commitment [for Peru], then he signs a National Accord, and later he shows this road map," Fujimori said. "I think that generates more confusion."
Although Fujimori has not presented any new government plan as such, there have been several adjustments made to the Fuerza 2011 guidelines, including a proposal for a tax on windfall profits in the mining industry and a state-funded pension for all citizens over 65 who have no other pension source, both proposals made originally by Humala's Gana Peru and heavily criticized by her party.  
In the press conference to introduce the new plan, Humala said the new road map had been drawn up  in recognition of the electorate's expectations on key issues, to govern with a broad consensus.  The plan has been put together by Gana Peru's technical team , led by economist Feliz Jimenez and including leading economists Kurt Burneo, Humberto Campodónico, Javier Iguiñiz, Oscar Dancourt, and Luis Arias as well as several former cabinet ministers.
The party's leading spokesman, Daniel Abugattas, said last week on America TV's Prensa Libre that they realize they need to be willing to adjust many of their policies to reach a middle ground with the electorate.   
Economist Kurt Burneo, formerly head of Alejandro Toledo's government plan and now on the Gana Peru team, said that the first commitment signed by Humala was the "what" and that this road map is the "how."   The National Accord was signed at the request of the National Confederation of Private Business Institutions, Confiep. 
"This road map has been created in consensus. There are no surprises here as we have seen in the past, when we were told there would be no [economic] shock and then it was applied, or there was talk of respect for the Constitution and then there was a coup d'etat," Burneo said. 
Humala and Fujimori are scheduled to hold a debate on May 29. The election is scheduled for June 5 and the winner will assume office on July 28 for a five-year term.