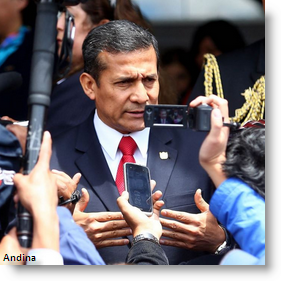 President Ollanta Humala saw his approval rating tumble again in June, reaching its lowest point since taking office almost four years ago, according to two new polls released days after a political crisis involving Congress.
Pollster Ipsos said Sunday in newspaper El Comercio that Humala's approval rating fell to 17% in June, down from 21% in the previous month, the lowest level since he came to office in July 2011.
Another poll published on Monday by Datum showed support for Humala at 14%, down from 28% in the previous month. The Datum poll showed the president's disapproval rating soaring to 82% from 67% in May.
Several factors have impacted Humala's declining approval rating, including a sluggish economy over the past year and long-standing concerns about crime. But pollsters say the recent drop has been associated with growing scandals involving his once-popular wife, First Lady Nadine Heredia.
The scandals have included her use of a friend's credit card to make expensive purchases, her connections to Martin Belaunde Lossio, a close, former campaign supporter recently arrested on corruption, and allegations that Heredia received funds from Venezuela. She has denied wrongdoing.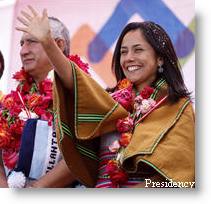 "The accusations against her… are having a direct repercussion [on Humala]," said Alfredo Torres, the director of Ipsos Peru.
At the start of Humala's administration, Heredia had sky-high approval ratings that helped to boost her husband's popularity. Now, Ipsos said that her approval rating was at 15%, while Datum found it was at 12%.
The Ipsos survey of 1,178 people had a margin of error of 2.8 percentage points. It was conducted from June 8 to 11.
The Datum survey included 1,200 people, and also had a margin of error of 2.8 percentage points. It was conducted from June 5 to 9.
The release of the polls comes after growing tension between Humala and opposition politicians in Congress. On Friday, Premier Pedro Cateriano was scheduled to meet with lawmakers to request special powers to legislate on the economy and crime. The government said the powers were key to helping the economy recover and improving security.
Legislators critical of the Humala administration refused to participate, resulting in a lack of quorum and the suspension of the session.  The opposition demanded that prior to the session with Premier Cateriano, the Congress, chaired by the ruling party, first debate charges of corruption against congressman Fernando Yovera. Yovera was elected to Congress as a member of the Fujimorista party, Fuerza Popular, but crossed over to minor party, Accion Popular.
The government has lashed out at the opposition, calling on it to provide the powers in order to support Peru's economy and reduce crime. Cateriano said his administration would instead implement some of the measures through urgent decrees and by calling extraordinary plenary sessions.