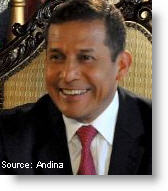 President Ollanta Humala saw a sharp decline in his approval rating in June as protests against the mining sector and fractures in the ruling party wear down the almost year-old administration, according to a poll released on Friday.
Humala's popularity plunged 12 percentage points to 43 percent in June. It was the first month that the president's popularity has been below his approval rating, which was at 49 percent, a poll by company Datum found.
That poll of 1,216 people was published by financial daily Gestion with a margin of error of 2.9 percentage points. It was taken from June 8 to June 11, following violent protests in the province of Espinar against a copper mine owned by Xstrata.
The poll said that 47 percent of men and 39 percent of women approve of Humala's government. In terms of socio-economic groups, Humala's approval was lowest in classes D and E, which are the poorest sectors of the society and those that largely supported Humala during the 2011 presidential campaign.
Fifty-four percent of the respondents said that Humala was managing social conflicts badly, while 54 percent said his tackling of the drug trade has been poor.
Nadine Heredia, Peru's First Lady, also saw her approval rating slip in June, down five points on the month to 55 percent. Premier Oscar Valdes saw his approval rating up slightly at 25 percent, while the president of Congress and close ally of Humala, Daniel Abugattas, had an approval of 26 percent.
Environment Minister Manuel Pulgar Vidal, who has been a key public face in the dispute with communities over mining investments, had 25 percent support.
The poll found that 74 percent of Peruvians are in favor of mining investments.