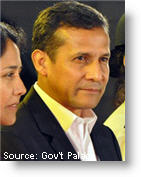 A recent poll, published in newspaper Gestion, found that President Ollanta Humala's approval rating declined three percentage points in March.
Humala, a 49-year-old former military officer who took office in July, has an approval rating of 55 percent in March, down from 58 percent in February.
Twenty-four percent of respondents said they support Humala because he is fulfilling his campaign promises, while 20 percent said he has a good management.
Manuel Torrado, the director of Datum, the firm that carried out the poll, said the decline in Humala's popularity has been caused by internal government issues, including allegations that his jailed brother, Antauro Humala, has received perks.
Seventy-three percent of those polled said they believe Humala's government has provided benefits to Antauro.
"The problems haven't come from the opposition," Torrado said. "First it was the problem of his second vice president, Omar Chehade, and now it is the problem of his brother Antauro Humala."
Antauro Humala is serving a sentence for the 2005 assault on a police station in theAndean town of Andahuaylas that resulted in the death of four police officers.
Antauro led a group of  some 130 ultra-nationalist "Etnocaceristas" in a New Year's Day siege of a police station in Andahuaylas, located in Apurimac region in southern Peru. The group took hostages, demanding that then-President Alejandro Toledo resign. The group said that Toledo had sold out Peru to foreign corporate interests – Chilean investors in particular.
The policemen were killed in a roadside ambush during the ensuing three-day standoff. Police snipers killed two of Humala's men the following day.
Meanwhile, the poll, taken from March 9 to March 12, found that first lady Nadine Heredia has an approval rating of 59 percent, while prime minister Oscar Valdes' approval rating is at 32 percent and Daniel Abugattas, the president of Congress, has tumbled 10 points in popularity to 21 percent.
The poll also said that 41 percent of Peruvians believe Newmont Mining's Minas Conga project will overcome opposition to be developed, while 40 percent said they don't believe it will go ahead. The gold and copper project in Cajamarca has been suspended since November due to opposition from local residents concerned with the impact it will have on their water supply.  Three independent experts are currently analyzing the Environmental Impact Study presented by Newmont.
The poll of 1,206 people has a margin of error of 2.9 percent.