The principal architect and strategist of Peru's bloody Maoist Shining Path insurgency, Abimael Guzmán, is planning to begin a hunger strike on Tuesday if authorities do not permit him to marry his partner, Elena Iparraguirre, daily El Comercio reported.
Both are serving life sentences. Iparraguirre was second in command in the Shining Path.
"They are asking State authorities to provide the necessary documents to [get married] and they don't hand them over. They have been asking for them for four months," said Alfredo Crespo, Guzmán's lawyer. "Abimael Guzmán and professor Iparraguirre have decided that if they are not provided the documents by Monday, on Tuesday they are going to start a hunger strike."
Guzman, 74, a philosophy professor when he initiated Shining Path, was captured by police in an upper middle-class Lima residence in 1992, and later exhibited publicly in a cage with a black and white striped uniform. He was sentenced to life in prison by hooded military judges under provisions of the anti-terrorism laws that did not allow defense attorneys access to evidence or cross examination. The laws were enacted by jailed former President Alberto Fujimori's government.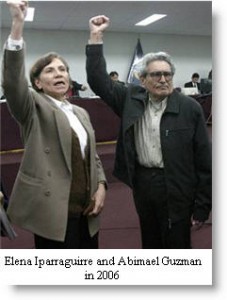 Later, in 2003, more than 5,000 individuals presented an appeal to Peru's Constitutional Court, requesting that the verdicts against more than 1800 prisoners convicted of terrorism, including Guzman, be overturned. The Court agreed, striking down Fujimori's anti-terrorism laws as unconstitutional.  New trials were conducted.
In 2006, Guzman and Iparraguirre were again sentenced to life in prison, this time by a civilian court, and were placed in the separate prisons. 
According to Peru's Truth and Reconciliation Commission, 54 percent of all deaths in Peru's two decade-long conflict were caused by the Maoist Shining Path insurgency. Peru's armed forces were blamed for 30 percent, and most of the remaining deaths by government-backed peasant militias.
Currently, the only high-profile Shining Path guerrilla leader not imprisoned is known as "Comrade Artemio." He operates the Proseguir, or "to continue" group's remaining 200-300 insurgents in Peru's central jungle region.