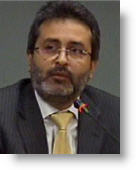 Peru's new Justice Minister, Juan Jimenez, said Thursday that the government has not raised the issue of a possible pardon for jailed ex-President Alberto Fujimori.
"We are not at this moment discussing the issue. Please take it off the agenda," Jimenez, who was appointed to the post on Sunday during a major cabinet shuffle, told reporters.
During a televised press conference, Jimenez told reporters to "not speculate, there has not been any request for a pardon."
Fujimori's family has presented no request either to the President or the Constitutional Court, but late Thursday daily El Comercio reported that  a request for pardon had indeed been presented to the Presidency. Cesareo Vargas, a questionable former advisor to election authority ONPE during Fujimori's corruption-riddled run for office in 2000, made the citizen request, the newspaper said.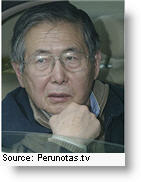 Alberto Fujimori governed Peru from 1990 to 2000 before fleeing to Japan where he faxed his resignation amid a massive corruption scandal.
He remained in Japan until 2005 when he then flew to Chile with the plan to cross the border into Peru and campaign in the 2006 presidential elections. However, he was arrested shortly after his arrival in Santiago and later extradited to Peru to face corruption and human rights charges.
In 2008, Fujimori was convicted and given a 25-year sentence on the human rights charges. He pleaded guilty to the corruption charges.
President Fujimori has aged considerably since his imprisonment. He is suffering from depression and is being treated for a cancerous growth on his tongue. His daughter Keiko Fujimori, a former presidential candidate and leader of the opposition Fuerza 2011 party, said recently that the time was coming to seek a humanitarian pardon for her father.
On Wednesday, El Comercio reported Heriberto Benitez, a legislator with the opposition Solidaridad Nacional party, saying that President Ollanta Humala's cabinet chief, Oscar Valdes, has held conversations with Fujimori's family about a possible pardon.
"What I know is that there have been conversations between Oscar Valdes with Fujimori's family to sign the pardon at Christmas," Benitez said.
However, the Attorney General, José Pelaez, said on IdeeleRadio on Thursday that it would be very difficult to grant a pardon to Fujimori if he does meet the legal requirements, basically to be on his deathbed. 
Neither Peru nor the Inter-American Court of Human Rights, of which Peru is a member, allow pardons for human rights crimes, Pelaez said.  
But Pelaez also said that Fujimori's pardon "is a political issue, and you know that pardons are the competence of the President of the Republic and the Government. We can have our opinions, but the final decision lies with the Government."
Congressman Benitez said that Valdes offered the pardon in exchange for political support from Fuerza 2011 for Humala's new cabinet.
Humala's cabinet shakeup drew strong criticism from ex-President Alejandro Toledo, whose Peru Posible party broke an alliance that it had with the executive. Toledo called the appointment of Valdes, a retired military officer, to the chief of cabinet as "militarization" of the government.
Two members of Toledo's party had formed part of Humala's first cabinet, which was led by Salomon Lerner Ghitis.  In addition, Humala's Gana Peru party, which does not have a majority in parliament, has looked to Peru Posible lawmakers when passing legislation.
Although ex-President Alejandro Toledo has distanced himself from President Humala's new cabinet, his party has announced it will continue to support Gana Peru in Congress.
Some analysts say that recent tensions between Humala and leftists that supported his presidential bid may result in the president seeking a new alliance.
Humala, a 49-year-old former military officer, defeated Keiko Fujimori in the June 5 presidential election. Fujimori and her supporters, during a polarized campaign, painted Humala as a protégé of Venezuelan President Hugo Chavez.
Humala and his team, on the other hand, said during the campaign that the election of Fujimori would lead to the pardon of her father and a return to authoritarian tactics used during his administration.
The president of the Superior Court of Lima, Hector Lama, said on Ideeleradio that a humanitarian pardon could be considered for health reasons but that so far he does not consider that Alberto Fujimori's situation is "in any way calamitous." 
Political commentator Augusto Alvarez Rodrich argues that rather than a "bad pardon" against current legislation, it would be wiser to provide Fujimori with better hospital facilities.
Fujimori is imprisoned in a suite at the Diroes police installations in north Lima, which is comfortable and has no visitor restrictions but is far from the Neoplásicas cancer hospital across the city for his occasional treatments.