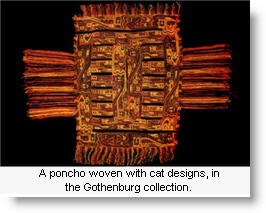 The mayor of the Swedish city of Gothenburg, Anneli Hulthen, has said the town will return some 100 items from the Paracas culture to Peru, daily La Republica reported.
The mayor sent an official letter to Peru recognizing the country as the owners of Paracas textiles that were smuggled out of Peru in 1931 and 1939, and which are being held at the World Culture Museum in Gothenburg.
In July, then Peruvian President Alan Garcia announced plans to begin legal action against Gothenburg. Garcia said the city was complicit in the removal of the textiles.
The announcement, made at a conference on international cooperation for the protection and repatriation of cultural heritage, came as a surprise to Gothenburg authorities who were already in good negotiations with Peruvian diplomats in Stockholm.
At the time, the city of Gothenburg's culture administration had recommended returning the objects to Peru, but a final decision was required from the Gothenburg's municipal council, which was to convene after the summer break.
This week, the mayor of Gothenburg said the city would seek to work with Peru in the conservation of the magnificent textiles, which are some 2,000 years old.  The fragile mantles are kept in specially-conditioned rooms.
The textiles are part of a large selection offered quietly in the 1930s by antiquities traders in Peru to private collectors, museums and members of the diplomatic corps. Similarly beautiful textiles are in museums and private collections all over the world.