The administration of Lima's former mayor, Luis Castañeda, included unnecessary spending, lack of transparency and the delivery of incomplete works as a result of excessive outsourcing to the International Organization for Migration (IOM), according to a report released by the new mayor of Peru's capital, Susana Villaran.
The IOM was contracted to carry out and supervise the investments in 178 municipal works that had a budget of 1.21 billion soles (approximately $435 million). The figure represents 48% of the municipality's total infrastructure budget, daily El Comercio reported.
"The IOM was involved in everything from the selection process for the contractors to the submission and settlement of the work. The municipality only appeared in the inauguration photo," Villaran said.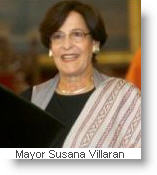 One of the main problems of outsourcing to the IOM is that Peru's comptroller general could not audit its books because it is an international organization and has diplomatic protection. "So, our main works have not been audited," Villaran said.
The IOM is an inter-governmental organization with 132 member states, including Peru. It was created in 1951 to support human management of migration, although it also provides technical assistance for the implementation of national development projects.
The IOM says that it charged Lima 27 million soles between 2003 and 2010, during Castañeda's administration. However, the report finds that this figure is actually closer to 42 million soles and that it still has pending charges for another six million soles.
Villaran says contracting the IOM has been a waste of funds. "It is a job that technical personnel from the municipality should have done," she said. "That's why we pay them."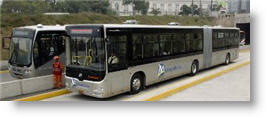 The report also points out the large increase in the original budget for the Metropolitano bus project. The project was originally to cost 400 million soles, but eventually came to a total of 1.06 billion soles.
The Metropolitano project is also transporting less than 40 percent of the passengers it had planned to, which means the city will lose 15 million soles this year, Villaran said.
Castaneda, who is running for president in the general elections, has accused Mayor Villaran of political manipulation to favor candidate Alejandro Toledo, who holds a clear lead ahead of Keiko Fujimori and Luis Castañeda in the polls.  Castañeda is currently in third spot with about 17% support ahead of the April 10 vote to replace President Alan Garcia.