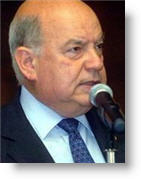 Strong economic growth in Latin America "could be dangerous" if it is not accompanied by improved distribution of income, the head of the Organization of the American States said.
Countries in Latin America have been growing at solid rates, taking advantage of a demand for raw materials from emerging market powerhouses like China. However, the region is still considered one of the most unequal in a number of economic and social areas.
OAS Secretary General Jose Miguel Insulza said that it is key for Latin American officials to work on improving the quality of life for the poorest sectors, state news agency Andina reported.
A number of officials have used similar messages as a central part of their policy platforms.
Peruvian President Ollanta Humala assumed office last year with promises to improve "social inclusion" in the Andean nation, which has seen solid economic growth during the past decade. Peru's GDP grew by 6.9 percent in 2011 and 8.8 percent in 2010. It is forecast to grow by about 6 percent this year.
"Economic growth is essential, it is fundamental to be able to improve living conditions for the entire population, but growth without improved distribution can also be dangerous," Insulza said.
"When you are growing at 7 percent annually, a lot of people begin to ask where my seven percent is," he added.