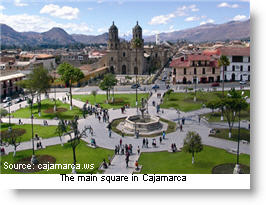 Peru's government says that conditions are not right in the northern region of Cajamarca to lift a state of emergency that was imposed there in early July, following violent protests against a large-scale gold project.
Cabinet Chief Juan Jimenez said the government has not received "signals" from authorities in Cajamarca to give it the confidence that it can lift the state of emergency, daily La Republica reported.
"We are waiting for signals from the authorities in Cajamarca and until there are signals, there aren't the conditions to lift the state of emergency," Jimenez said.
"We aren't going to the population at risk," he added. "If the conditions are not there to lift the state of emergency, the government is going to be defending the rights of the people."
President Ollanta Humala suspended civil liberties in three provinces in Cajamarca after five people were killed during protests against the Minas Conga gold project, majority owned by U.S-based Newmont Mining.
Opposition to the project has been led by the regional president of Cajamarca, Gregorio Santos, and other activists. Opposition has focused on plans by the company to drain four Andean lakes in order to build the mine, which would require an investment of about $4.8 billion.  An independent environmental impact assessment, made early this year by government-contracted specialists, suggested reducing the number of lakes to be drained and sought solutions to guarantee the water supply to the basin.    Santos and his supporters, however, have refused to shift their opposition, despite ongoing negotiations.
The state of emergency, initially enacted for 30 days, was extended in early August after President Humala changed his chief of cabinet. Jimenez was promoted from justice minister to cabinet chief, replacing former military officer Oscar Valdes.