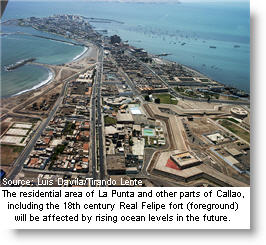 Rising sea levels as a result of climate change will make a number of popular areas on Peru's coast uninhabitable in 80 years, the department of oceanography in the Peruvian Navy said, according to daily El Comercio.
Oceanographer Gustavo Laos told El Comercio that the neighborhood of La Punta, in the port city of Callao, and the upper-class beach district of Asia, located just outside of Lima, are among the areas that will be flooded.
He also said that parts of the Costa Verde in Lima, as well as the popular beach town of Mancora in northern Peru will also be impacted.
Scientists say that Peru will be one of the countries most affected in the world as a result of climate change.
In addition to rising sea levels, scientists say that Peru could face a large strain on water supplies with the disappearance of glaciers.
Peru is home to some 70 percent of Earth's tropical glaciers. The country's glaciers, which feed hydroelectric plants and provide drinking water to Lima, the world's second largest desert city after Cairo, Egypt, are in the process of accelerated meltdown due to global warming.
According to Peru's National Resources Institute, Inrena, the Andes Mountains have lost at least 22 percent of their glacier area since 1970.