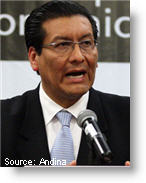 The Minister of Transport and Communications, Carlos Paredes, said this week that the government will invest 2.17 billion soles (approximately $805 million) on roads in the Cajamarca region.
Paredes described the investment decision, which followed talks with regional authorities in Cajamarca, as "unprecedented," daily El Comercio reported.
Paredes said that 1.78 billion soles will be for the repair and upgrading of roads and 384 million soles will be for maintenance.
Paredes' meeting with officials in Cajamarca follows protests against the Minas Conga gold project, majority owned by Colorado-based Newmont Mining.
Cajamarca's regional president, Gregorio Santos, led the protests against the $4.8 billion project over concerns about its environmental impact. The project requires the draining of four lakes to build the open pit mine and create a dumping area. The plans foresee the building of reservoirs to catch the water, but residents fear it will affect the quality of the water. 
President Ollanta Humala declared a state-of-emergency on Dec. 4 to restore order in the protest areas and also made a major cabinet shuffle shortly afterwards, mostlyu due to disagreements in the government on how to resolve the dispute.
Santos said that opponents of Conga are ready to resume negotiations if Cabinet Chief Oscar Valdes revoked the state-of-emergency. In response, Valdes said that would only happen if Santos and other protest-leaders officially ended the demonstrations and lifted their strike.