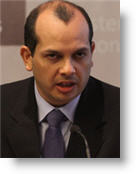 British publication Emerging Markets has named Peru's Luis Miguel Castilla as Latin America's Minister of Economy of the Year, according to state news agency Andina.
The publication recognized Castilla, who was appointed Finance Minister when President Ollanta Humala took office in July 2011, for his role in applying "prudent policies" that have allowed Peru to enjoy a strong economy despite the international financial crisis.
"The priority is to be sure that we can maintain appropriate fiscal policies, in the event of any external shocks from Europe or any other place, including the slower growth in China," Castilla said. " We need to monitor the crisis and make sure we adopt the necessary compensatory measures."
Castilla, 43, studied at McGill University in Montreal, and has a Master's and Doctorate in economics from Johns Hopkins University in Baltimore.
He has held posts with the World Bank, the Andean Development Corporation, CAF, as well as being a director of the state-owned Banco de la Nacion.
Peru's economy has been cruising in recent months. In July growth was above 7 percent, while in the first half of the year it was 6.1 percent.