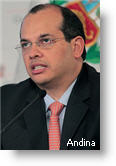 Peru's economic activity is not slowing down, Finance Minister Luis Miguel Castilla said following the release of the weakest monthly economic growth since 2009.
On Wednesday, the National Statistics Institute said that Peru's gross domestic product expanded just 3.01 percent in March compared to the same month last year. The growth in March was the slowest rate since October 2009, when Peru and other countries around the world were hit by the global financial crisis.
Economists had forecast weak growth in March due to fewer working days, but the data still came in far lower than many had expected. The Finance Ministry had forecast growth of about 5.5 percent in the month, while consensus among private-sector economists was for growth of about 4.5 percent.
Speaking in Congress Wednesday evening, Finance Minister Castilla ruled out a slowdown in the economy. He said the March data was "atypical," daily El Comercio reported.
Castilla said the weak data in March was due to three fewer working days than the year-earlier month. Peru had fewer working days in the month because the Easter week holidays was earlier this year.
"Is the Peruvian economy cooling? The answer is no," Castilla said. "March was an unusual month."
Economists expect a strong recovery in Peru's GDP in April because that month will now have more working days than the same month last year.
Peru's economy grew 6.3 percent in 2012, after expanding 6.9 percent in 2011. It is expected to grow 6 percent to 6.5 percent this year.