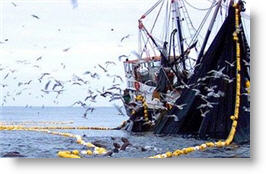 Peru's economy maintained its strong growth rate in January climbing 10.02 percent compared to the same month in 2010, the national statistics and information bureau, INEI, reported.
The fishing industry saw the biggest growth in the month and expanded 26.5 percent thanks to a 29.5 percent jump in maritime fishing. Inland fishing fell 2.48 percent, state news agency Andina reported.
The construction industry rose 16.2% in January and has seen a 17.9 percent increase in the past 12 months.
Manufacturing climbed 14.4 percent in January and 14.8 percent in the February 2010-January 2011 period.
The finance and insurance sector increased 13.9 percent and transportation and communications grew 11.1 percent. The electricity and water sectors jumped 7.51 percent compared to the same month in 2010.
The mining and oil and gas industries fell 0.56 percent, due to lower mining output for the month.
President Alan Garcia recently said he expects Peru's GDP to grow 9 percent in the first three months of 2011.