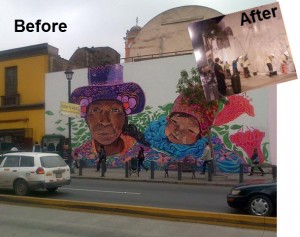 Lima's decision to paint over murals in its historic center has created a division within the city's artistic community, with one prominent painter defending the municipalities decision to erase the art.
Last week, Lima Mayor Luis Castañeda confirmed that his administration was painting over murals that were commissioned during the administration of his predecessor and political rival, Susana Villarán.
Villarán's administration, a strong supporter of the arts, had paid for the paintings in an attempt to spruce up Lima's gritty downtown, whose colonial architecture has for years been falling apart despite the area being named a UNESCO World Heritage Site more than 25 years ago.
Several of the murals have now been covered by yellow paint, the color of Castañeda's right-wing Solidaridad Nacional party.
"The murals don't go with the Historic Center of Lima," Castañeda said.
"Tomorrow [Friday] all of the murals in central Lima are going to disappear," he said in comments broadcast on AmericaTV.
Most artists and political progressives have come out against Castañeda's move. On Saturday, the director of Lima Museum of Art (MALI), Natalia Majluf, said she would prefer the murals not be erased. The MALI is Lima's top arts museum.
"Many people in the cultural field feel the same way," she said on RPP Noticias. "I understand that those murals were done within a plan for public auctions and they should be respected."
However at least one prominent artist, Fernando de Szyszlo, supports Castañeda's decision, saying that the historic center is no place for the brightly-colored murals.
"The murals completely deform the architecture. They distort the vision of the city," he said.