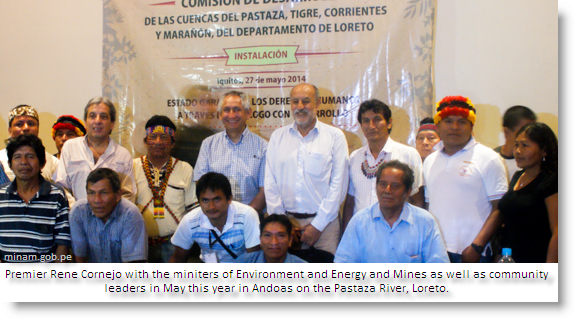 Peru's Premier, Rene Cornejo, has announced a package of 13 water and sanitation projects for the Pastaza River basin in the northern jungle of Loreto.
The projects are to benefit the indigenous communities in the district of Andoas on the Pastaza, where years of oil spills from the north oil pipeline have damaged community lands and water sources.
During his visit to the area, Cornejo said a Multisector Development Commission is to study and develop a series of investment projects for the communities of Pastaza, Andoas, Tigre, Trompeteros, Urarinas and Parinar.
Some 15 months ago, the Ministry of Environment declared an environmental emergency in the area, following inspection of the damages caused by the long-term oil spills.
This was confirmed six months ago by the UN's special rapporteur on indigenous rights, James Anaya, when he visited the Pastaza.  The
extractive industries have had "devastating consequences" for indigenous communities, Anaya said.
In 2009, many of these areas were included in a political state of emergency status when indigenous communities protested President Garcia's pro free-trade legislation that ignored prior consultation rights.
In 2013, the Andoas and Pastaza communities were among the first to benefit from prior consultation implemented by President Humala.