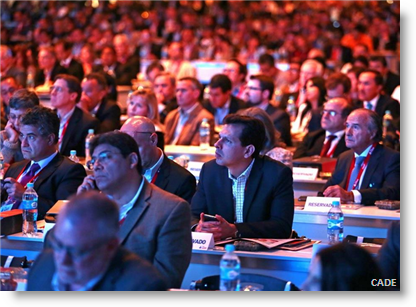 The annual Peruvian business conference CADE wrapped up on Friday, and executives at the event seemed to be much less upbeat about the Andean country than in recent years.
A survey by pollster Ipsos Peru highlighted that far fewer of the participants in the event this year believed that Peru was on the right path.
The survey, which was published by financial daily Gestion, said that 52% of participants believed Peru was progressing, compared to 27% who believe it is going backwards.
However, compared to previous years, that figure is quite low. In 2013, 84% of the business participants believed Peru was progressing, while in 2012 that figure was at 89%. In 2013, only 3% thought that Peru was going backwards, while in 2012 none of the participants thought that Peru was backpedalling.
There are likely many reasons for the declining confidence. At the top of the list is possibly Peru's changing economic landscape. The country has gone through a decade of robust economic growth thanks to strong tailwinds from Chinese demand for copper and other raw materials that Peru exports.
That demand has dropped, however, and as a result, Peru's economy has gone from growing at annual rates of about 6% or higher to an expected 3% expansion this year, with recent months seeing growth as low as 0.3% year-over-year. Many economists expect an improvement next year, but they also agree that the country probably won't experience the same favorable international scenario again for years.
Almost 80% of those surveyed in the poll said the government can support the economy by reducing permitting delays to shore up investments, promote public-private partnerships, and combat corruption.
Added to the weakening economy is the ongoing corruption, with high profile cases that have brought down several regional governments and created a growing sense of insecurity and crime.
The survey says that 86% of business leaders at CADE think the government should focus on combating corruption, followed by 70% who point to the need for development of infrastructure and 68% who want improved security.
CADE, which brings together the country's leading business executives and investors, was held this year in Paracas on the coast south of Lima.