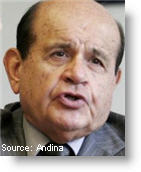 The head of Peru's largest business organization, the private industry and business confederation Confiep, said Tuesday that improved security in the country would help boost economic activity, state news agency Andina reported.
Humberto Speziani said that greater safety in Peru will allow firms to operate better, while consumers will be more open to make purchases, which would lead to more jobs.
"In general, the local economy will be more dynamic," Speziani said.
This week, the minister of the Interior, Oscar Valdés, said the ministry approved a special budget of S/.67 million (around $24 mn) to cover the cost of bringing in police on a full-time basis — police currently work one day and take one day off, and most use their day off to work for banks and businesses as police guards.
Incorporating police on a full-time basis will mean some 13,000 additional law enforcement staff on the streets every day, Valdés said.  
In metropolitan Lima, meanwhile, mayor Villarán has begun to build neighborhood watch programs within the inner city areas, linked to new and additional police guardposts coordinated with police stations. Villarán has also set up a municipal committee for security that includes the city police chiefs on the working committee.
Safety in Peru is seen as a major concern by many residents concerned about a range of activity from street crime to more organized groups. Both President Ollanta Humala and Lima Mayor Susana Villaran have promised to tackle the issue.
According to a poll by Lima's Chamber of Commerce, 26 percent of businesses in Lima, Arequipa, Trujillo, Iquitos and Huancayo spend more than 5 percent of their annual budget on security.
The poll, which was taken in February 2011, found that 50% of businesses have increased their spending on security in the past five years.
Eighty-seven percent said that insecurity has increased over the past five years, with 62% saying that the main problem is common crime. Armed robbery and kidnappings were also cited as major issues by the firms.
Eighty-five percent of executives said that the perception of Peru as a country with high levels of insecurity has negatively affected foreign investment plans and economic development.
The main reasons for the rising perception of crime, according to respondents, is unemployment (36 percent), lack of values (35 percent), inefficient police (34 percent) and lack of education (33 percent).
The private sector said that the government should improve education and implement stricter penalties against criminals.