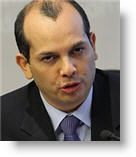 Peru's deputy minister of Finance, Luis Miguel Castilla, has resigned among rumours that he has been picked to be President-elect Ollanta Humala's Minister of Economy and Finance (MEF).
Castilla's post will be filled by deputy minister of Economy, Fernando Jesus Toledo, as President Alan Garcia's administration prepares to hand over power to Humala on July 28.
Newspapers El Comercio and Peru.21 reported that Castilla's resignation comes as he is about to be announced as Humala's head of MEF. Media reports have previously speculated that Humala would appoint Kurt Burneo to the post.
Burneo is the former president of the Banco de la Nacion and was head of the government plan team for ex-President Alejandro Toledo's campaign in the first round of the elections. When Toledo failed to advance to the second round, Burneo was one of numerous advisors who decided to support Humala.
Burneo is currently a member of Humala's government transition team for economy and finance, along with Oscar Dancourt, former head of the Central Bank, and Felix Jimenez, the author of Humala's original government plan, and a leading economics professor at the Universidad Católica.
Castilla has a doctorate and masters in economics from Johns Hopkins University in Baltimore, and his earlier bachelors in economics from McGill University, Montreal. He has worked at the Andean Development Corporation (CAF), the World Bank, the private investment commission Copri, and the Inter-American Investment Corporation.