Peru's National Elections Board (JNE) has reversed a contentious resolution that would have required polling firms to remove anonymity of those surveyed, daily El Comercio reported.
The regulation would have required polling firms to disclose the name, telephone number and address, as well as national identification (DNI), of each of the people they survey.  The Peruvian Association of Market Investigation Companies (Apeim), said the rule would effectively shut down polling because not only would it be impractical for pollsters but the public would no longer be willing to give their opinion.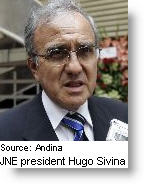 JNE president Hugo Sivina said the reversal was made after they "considered the facts, the pros and the cons."   Only hours earlier, one of the JNE members, Greta Minaya, said they would not go back on their decision nor yield to pressure, and that the regulation was backed by most presidential candidates and the general public.
In fact, the regulation –which meant changing the rules only 55 days before the elections– was harshly criticized not only by polling companies, which said they would stop publishing polling results, but by some of the presidential candidates as well as by legal experts and leading political figures.
Former UN Secretary General Javier Perez de Cuellar said the rule was "unacceptable."  "No one should be required to identify themselves if they participate in a survey," he said.
Fritz Du Bois, editor of Peru.21, described the regulation as "blindfolding the electorate" and said that the "gross attempt at censorship" by the JNE was strongly rejected by all parties "except, of course, APRA and Solidaridad."
Former President Alejandro Toledo, who is currently leading the polls for a second administration, went as far as saying the measure could be a sign of "electoral fraud." The electoral authority denied any political involvement in its decision to implement the regulation.
Toledo called the reversal a "win for democracy," adding that pollsters can now continue their work independently.
Congresswoman Keiko Fujimori, who is sitting in second place in polls, also applauded the move.
Meanwhile, former Lima mayor, Luis Castañeda, who had previously been leading the race for Peru's highest office but is now sitting in third place and who had supported the regulation, said his campaign would support the reversal.
Peru's presidential election is scheduled for April 10.