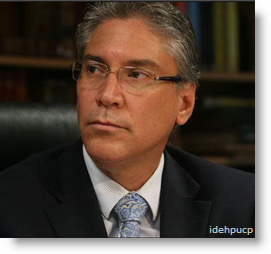 Aurelio Pastor, minister of Justice during the Garcia administration, was released Monday from the Piedras Gordas II prison in Ancon, in north Lima, after the Supreme Court accepted his appeal to annul his conviction of influence peddling.
Pastor served six months of a four-year sentence.
"They have been months of an unjust imprisonment. We said from the start that there was no crime (proven) in the audios and I'm sorry we have had to get to the Supreme Court to prove my innocence," Pastor said.
The former corruption prosecutor, Julio Arbizu, who is being accused of harassment by Pastor, said that the Pastor case was a landmark in influence peddling and regretted that the Court had seen fit to accept the appeal.
Pastor was convicted on charges made by the former mayor of Tocache, in the north central jungle, Corina de la Cruz, who said Pastor had asked her for money in exchange for helping her in a case before the National Elections Board to remove her from her job as mayor.
Pastor's acquittal was ordered by the Supreme Court magistrate, Javier Villa Stein, whose controversial decisions have often been criticized even within the judiciary.
Meanwhile, Pastor remains as a witness in an unrelated case, for his role in the granting of presidential pardons when he was minister of Justice. The trial is of Apra member Facundo Chinguel and 16 other defendants in what is known as the "narcopardons" case. Pastor told the court that when he became minister he was unaware of the specific activities of the presidential pardons commission, but that there was a public policy to reduce the overcrowding of the prisons.  Of the several thousand prisoners who were pardoned or received commuted sentences during the Garcia administration, 1,167 had been convicted of drug trafficking for more than 10 kilos of cocaine or were members of trafficking gangs. In some cases, whole gangs were pardoned.
On leaving the prison yesterday, Pastor said that he would get back to his activities within the Apra party and would support the efforts to ensure that on July 28, 2016  "Apra will govern the country again."