The head of Peru's Nationalist Party, Ollanta Humala, alleges that ex-President Alejandro Toledo called on the US Embassy in 2005, when he was President, to launch a communication campaign against the leftist candidate's bid for Peru's highest office.
Gana Peru, the political alliance that Humala is leading in this year's presidential race, said the information came out in diplomatic cables held by Wikileaks. Humala was shown the cable during a meeting with the US Ambassador to Peru, Rose Likins, state news agency Andina reported.
"Yesterday, the US Ambassador, Rose Likins, passed on to our candidate Ollanta Humala the contents of various of those documents with reference to him," Gana Peru said.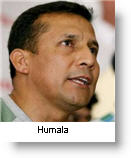 Humala, who was narrowly defeated in the 2006 election in a runoff with President Alan Garcia, then president Toledo sent authorities from the Interior Ministry to request the embassy organize a campaign against Humala in order to "destroy his campaign."
According to the report, the embassy denied the request.
 Toledo has denied his administration ever made the request. He said  he "never spoke with any ambassador about any candidate."
Toledo is currently leading in the race for a second shot at Peru's presidency, while Humala is sitting in fourth place.
The election is scheduled for April 10.