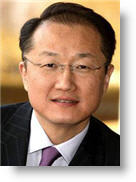 President Ollanta Humala met with the newly-appointed president of the World Bank, Dr. Jim Yong Kim, on Monday.
Humala's meeting with Kim came on the same day that the World Bank's board announced that the 52-year-old president of Dartmouth College would become the head of the international development organization later this year. The World Bank has 187 member nations.
In a statement, Kim said "It is befitting that I conclude my global listening tour in Peru. It was here in the shantytowns of Lima that I learned how injustice and indignity may conspire to destroy the lives and hopes of the poor."
He added: "It was here that I saw how communities struggle to prosper because of a lack of infrastructure and basic services. It was here that I learned that we must raise our sights to match the aspirations of those most excluded. And it was here that I learned that we can triumph over adversity by empowering the poor and focusing on results."
The upcoming president of the World Bank said he will "seek a new alignment" in the development group by fostering "an institution that responds effectively to the needs of its diverse clients and donors." Kim also called for delivering "more powerful results" that sustain growth, and amplifying "the voices of developing countries."
Kim was the U.S. nomination for the World Bank post, which has traditionally gone to U.S. candidates since its creation after World War II.   Its sister organizaiton, the International Monetary Fund, meanwhile, is traditionally headed by someone chosen by the European member nations.
For the first time in 60 years, the 25-member board of the Bank had to choose between three candidates. The other candidates for the position, and backed by the developing nations in the Bank, were Nigerian Finance Minister Ngozi Okonjo-Iweala and former Colombian Finance Minister José Antonio Campos. Late last week, however, Campos pulled out of the race on the grounds that the selection process was a political exercise and to allow stronger backing for Ms. Okonjo-Iweala.  
Although the tradition of U.S. candidate won through, selecting Kim is a break from the usual choice —unlike his predecessors who are traditionally political, economic or legal figures, Kim is a medical doctor and a pioneer in treating tuberculosis and HIV/AIDS in the developing world. 
He is a co-founder of Partners in Health, which began work in Peru in 1994 to cure infectious diseases and particularly tuberculosis.  Kim worked in the district of Carabayllo in north Lima, and the PIH successes in Peru were later replicated in more than 44 countries. Kim joined the World Health Organization in 2004.   In 2009, he became the first Asian-American to become president of an Ivy League college when he joined Dartmouth.