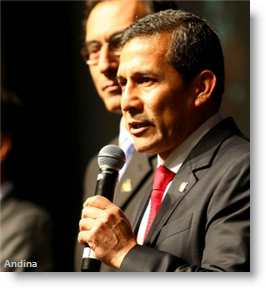 President Ollanta Humala on Tuesday said the government is preparing a new package of economic measures aimed at stimulating the economy.
"We'll promote a second package to reactivate the economy and the confidence of Peruvians that we have a robust economy," Humala said, according to daily Peru.21.
Humala did not provide more details about the upcoming measures.
The government has been studying ways to boost the economy as growth has slowed to its weakest rate since the global financial crisis in 2009.
The economy grew 0.3 percent in June and 1.16 percent in July. Growth in the January to July period was 3 percent, far below previous expectations.
On late Sunday, Humala appointed economist Alonso Segura as his new Finance minister, replacing Luis Miguel Castilla, who had held the post since Humala took office in July 2011.   Castilla's resignation was reportedly due to personal reasons.
Segura, a well-known economist who was head of Castilla's advisory cabinet, has worked in both the government and private sectors. He has promised to maintain Peru's market-friendly economic policies and work on shoring up investments.  One of his key responsibilities in the Castilla advisory team was to seek solutions to the entangled permitting processes for investment.
Humala reiterated Segura's comments Tuesday, saying that the change in the leadership at the Finance ministry did not signal a shift in Peru's economic policies.
"We are going to strengthen the economic policy in regards to the macroeconomic framework," Humala said.
Government officials are still confident that Peru's economy will rebound in the coming months, but it could be a slower recovery than previously anticipated. The GDP is expected to grow at about 4 percent this year.