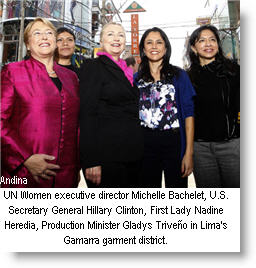 In Lima on Tuesday, U.S. Secretary of State Hillary Clinton said that women are the engines of global economic growth, and called on policymakers around the world to remove barriers affecting women entrepreneurs.
Clinton, who arrived in Peru's capital Monday, was speaking at a conference on "Power: Women as the Drivers of Social Growth and Inclusion."
"We now know, thanks to hard data and scientific studies, that women are the engine for world economic growth," Clinton said.
She added that restrictions against women, however, "are costing us massive amounts of economic growth and income in every region of the world," Peru's state news agency Andina reported.
Clinton met with President Ollanta Humala on Monday, and gave a brief statement afterwards to highlight areas where Peru and the United States have cooperation programs in place, such as protecting the Amazon basin, promoting development, and tackling drug trafficking and terrorism.
Clinton returned to Washington, D.C. on Tuesday, following a visit to the Gamarra garment district in Lima with the conferenc leaders.
The women's conference was inaugurated by President Humala, and key participants were Peru's First Lady, Nadine Heredia, the head of UN Women, Michelle Bachelet, and Peru's Minister of Development and Social Inclusion, Carolina Trivelli.