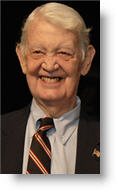 Robert 'Bobby' Booth, who died aged 84 in Miami on April 11 following hip surgery, was one of the great figures in the expansion of civil aviation in Latin America in the second half of the 20th century.
Well known in Lima, where he lived for many years, Bobby was associated above all, in those days, with the expansion of Braniff where his flair for marketing helped turn Braniff from a U.S. airline into a fashionable local-style friendly experience by hiring and training upper-crust cabin staff and associating Braniff with top local restaurants and hotels.
Born in Brazil, where his father had been on the national soccer team in the 1920s, and bred in Montevideo, he joined Panagra in Buenos Aires.  A natural athlete, like his father, he played rugby with and against his contemporary, Dr. Ernesto 'Che' Guevara.
Lima was his base for much of the 1970s where Robbie and Guy, his two sons, and Valerie, his daughter, were educated at Markham and San Silvestre.  They were, as a family, prominent in the motocross world.   During those years, he was also advisor to the president of state-owned AeroPeru (1977-1978), and president and owner of Interandina de Publicidad S.A. in Lima (1975-1977).
The Booths moved to Dallas and then on to Miami where they have been based ever since.  Perhaps his most prominent moments as an airline executive were when he was COO of Air FLorida.  This was the time, the early 1980s, when Washington had decided to deregulate the airline industry and Bobby re-recreated Air Florida, a small regional, and turned it into a big trans-Atlantic and important US domestic carrier. A crash by an Air FLorida plane into the frozen Potomac was a major incident, turned later into a commercial movie, bringing the airline itself down a year or so later.
Since then Bobby had been prominent, as head of AvGroup, as a consultant to airlines operating in and around Latin America and the Caribbean.  Until quite recently it was the U.S. majors, like Braniff, Eastern, American, United, Delta and Continental, which dominated the Latin skies.  This, despite great airlines like Varig and Avianca.
But  with advice and blessings from Bobby, a new pro world of cleverly managed and marketed airlines has come to dominate Latin American aviation and today LAN, Taca, Copa, and Tam have become the leaders for both local and international flights, with Lima itself becoming, as Bobby always said it should and would, a big continental hub.
In his autobiography, Airline Pasionado (1999), Booth wrote: "Commercial aviation in Latin America, at least carrying passengers for hire, on a scheduled flight for hire, on a regular basis, began in Latin America about six years before the United States."
In the foreword of this autobiography, and in recognition of Booth's constant preaching of alliances, privatizations and cross-equity tie ups in the business, the late Federico Bloch, long-time chief of the Taca aviation group, said "Bobby Booth has gained friendship and trust of most of the airline chiefs and this has allowed him to influence developments in an unselfish manner, with the interest of both airlines and the consumers at heart…Bobby Booth has had much of the responsibility and can take much of the credit for putting Latin American aviation back in the headlines."
Just as he was well-known in the aviation and tourist worlds as a top manager and marketer, Booth was also personally charming, a sociable associate and socialite.  He is survived by his wife of 60 years, Martha, his daughter, Valerie, his sons Robbie and Guy, 4 grandchildren and 2 great grandchildren.