Peru and Brazil have begun to exchange satellite information aimed at protecting the Amazon basin and detecting illicit activities linked to deforestation and drug trafficking, the Brazilian Ambassador in Lima, Carlos Alfredo Lazary, said.
The data is transmitted between the Center for Satellite Information in the north Brazilian jungle city of Manaos to a similar office in Peru's city of Pucallpa, which is operated by the country's Air Force, state news agency Andina reported, citing Lazary.
"We began a few days ago," said Lazary. "There is now a transfer of data in real time between Manaos and Pucallpa."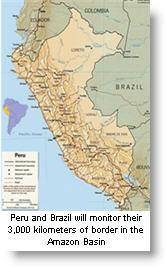 The sharing of information is part of an initiative dating back to 2003 in which Brazil and Peru signed a Memorandum of Understanding to protect the rainforest from illegal activities. Brazil has similar agreements with Colombia and Ecuador.
Peru and Brazil share a border extending some 3,000 kilometers. More than 60 percent of Peru's territory is in the Amazon region.
The two countries have been increasing ties recently. In business, numerous Brazilian companies have large investment projects in Peru, while in politics, President Ollanta Humala has looked to the Brazilian model of maintaining economic growth and reducing poverty as an alternative for Peru.