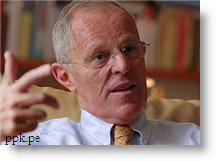 Peru still has a lot of space to make up in order to develop a solid middle class, according to economist Pedro Pablo Kuczynski.
Peru's strong economic growth during the past decade has lowered poverty to less than 30 percent from more than 50 percent, and increased the size of the middle class.
Kuczynski, a former finance minister, prime minister, and presidential candidate, said there are "still big economic deficiencies in the middle class."
Peru still "lacks a lot to have an important middle class," Kuczynski said, according to financial daily Gestion.
The Inter-American Development Bank has said that about 70 percent of Peru's population is considered middle class.  Kuczynski, however, said the figure is probably closer to 50 percent.
"There is an emerging class that buys houses and cars and has access to clinics, hospitals and private clinics," he said. "But our income distribution is still very unequal."
Peru's economy has expanded by about 6.5 percent during the past 10 years. It is expected to grow around 5.5 percent this year.