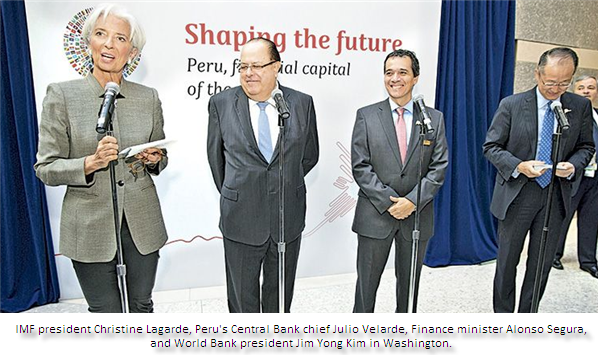 Peru is preparing to host one of the most important financial events this year when the International Monetary Fund and World Bank host their annual meetings in Lima in October.
In Washington, D.C. on Wednesday, Peruvian Finance Minister Alonso Segura, Peruvian Central Bank Chief Julio Velarde, the head of the World Bank, Jim Yong Kim, and the director of the IMF, Christine Lagarde, said the decision to host the event in Lima was recognition of Peru's progress in its economy.
The meetings will be held in Peru from October 5 to 12, state news agency Andina reported. The meeting is expected to bring more than 12,000 participants to Lima.
"I think it is a recognition of the advances that Peru has made in issues of human and social development, for which we are very enthusiastic and we await everyone, taking into account that the meetings return to Latin America after 48 years," Segura said.
For seven days, Lima will be host to some 16,000 participants from 188 countries for these meetings.
Peru's Segura and Velarde are in Washington D.C. this week participating in the World Bank and IMF's spring meetings from April 15 to April 19.
Peru has in recent years hosted a number of major global events. In December, the country hosted United Nations-sponsored COP20 talks tackling climate change, over a period of two weeks.
Peru's economy has been one of the fastest growing in Latin America during the past decade, although activity has eased over the past year in part due to lower commodity prices.