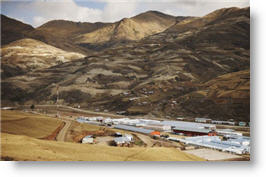 Peru's massive Las Bambas copper project will be put up for sale following a $35 billion acquisition of Anglo-Swiss mining group Xstrata by the giant Swiss commodity trading and mining company, Glencore.
Glencore made the offer for Xstrata last year, which would result in creating the world's fourth largest diversified resource company. Glencore's final hurdle to complete the deal was to receive approval from Chinese regulators, concerned about antitrust at a difficult time in the mining industry. In order to gain approval, the company had to agree to sell Las Bambas, which is currently being developed by Xstrata.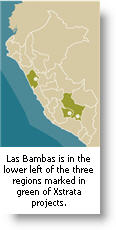 Analysts say a combined Glencore-Xstrata could prompt a new round of acquisitions in the sector, as companies adjust to the economic reality of lower prices and a decline in demand from fast-growing emerging economies.
"Glencore shall sell all of its post-merger ownership interest in Las Bambas," the company said Friday. Glencore said it will enter into an agreement with a purchaser that will need to be approved by China's Ministry of Commerce before September 30, 2014.
The completion of the deal will need to occur by June 30, 2015, Glencore said.
"The pre-determined price shall be the higher than (i) the fair market price of Glencore's ownership interest in Las Bambas as evaluated, according to industry practices, by two independent investment banks chosen by Glencore and confirmed by the monitoring trustee, and (ii) the total of all of the costs actually incurred by both Glencore and Xstrata in Las Bambas, as audited and confirmed by the monitoring trustee," the company said.
Las Bambas is one of Peru's largest mining investment projects. It will require an investment of $5.2 billion and will produce 400,000 tons of copper concentrates, as well as gold, silver and molybdenum byproducts. Commissioning at Las Bambas is expected in the fourth quarter of 2014.
The project will increase Peru's current copper output by about one-third. Peru ranks third in world copper production. There are several large-scale copper projects being developed, which will be able to more than double Peru's copper output.