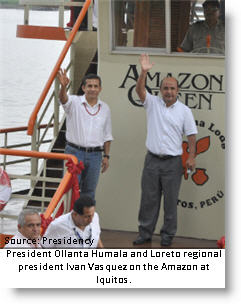 President Ollanta Humala has called for striking a balance between community demands and industrial activity, following months of antimining protests that have recently turned violent.
Five people were killed in the past week during protests against the Minas Conga gold project, majority owned by US-based Newmont Mining, operating with its Peru-based partners, Minas Buenaventura.
Opponents of the project want it to be canceled, saying that it will hurt the supply of water to farmers. Meanwhile, the government has recognized the right to water but also backs Minas Conga, which is seen as an important project to generate employment and tax revenue.
The dispute over the future of the project has become the main political challenge for Humala, who this month completes his first year in office.
"There has to be an equilibrium between the demands of the population, respect for the environment, and productive activity in Peru," Humala said, according to Peru.21.
He added that, "We need to work together to defend the environment, water and productive activity, which allows us to move forward."
Humala's comments came during a special cabinet meeting held in Iquitos, on the banks of the Amazon River and the capital of the immense north-eastern Loreto region.